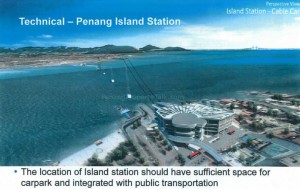 The proposed RM300 million Penang Sky Cab project linking the island and the mainland will be cancelled if the public objects to it, said Chief Minister Lim Guan Eng.
Lim said in implementing the project, the state would take into account the views and feedback from the public.
"We will also not carry on with the project if it fails the Environmental Impact Assessment (EIA), " he said in a press conference at the Seberang Prai Municipal Council (MPSP) office in Bandar Perda today.
This comes after Lim had reportedly announced the proposal, saying the project would offer public transportation alternatives to Penangites.
The cable cars expected to be completed by 2018 will take about 15 minutes to link Penang Sentral in Butterworth to Nordin Street Ghaut on the island.
Lim said the project which is still in the proposal stage will not affect the sea and the environment as only nine towers will be built in the sea, adding that the state aims to provide more transportation options for the people.
"It helps connectivity between the island and mainland and will also boost tourism," he said.
Meanwhile, Lim also said the state government will allocate RM12 million to upgrade and renovate the Seberang Jaya wet market and hawker complex.
He said the cost to renovate the 4.5 acres market will be undertaken by the Penang Development Corporation (PDC).
Work on the project is expected to start at the end of this year and is scheduled to be completed in two years.
In another development, Lim also praised MPSP for making it into the Malaysia Book of Records as the first council to receive five quality management system certificates.
MPSP president Maimunah Mohd Sharif said the council was listed on April 13.
Source: TheSunDaily.my